Answers to questions about working
at the Trident Group
How can I open a Trident Exclusive Brand Outlet (EBO) ?
We are always in search to expand our footprints across India to make our Nation ready for fashionable homes. Trident EBO's are a great way to accomplish it. Kindly connect with us on our website and share your contact details, our team will reach out to you within 24 hours. We will do a series of discussions involving product line, territory coverage and customer base so as to set up the working terms and take you onboard with Trident Family.
How to be a Trident's Distributor/Retailer?
Distribution is part of the DNA of Trident and a correct channel management consist of retailers is key for the success of product. We will be happy to take you onboard with us! Share your contact details on our website, our team will reach out to you within 24 hours to expedite the process of making you a part of Trident.
Why should I become a Trident retailer?
At Trident, our retailers are our extended family. We ensure that their journey of connecting our thoughtfully made products to the end customers is seamless. Our support and marketing teams are always available to support our retailers. We have a smooth channel running across India, thanks to our existing retailers and an amazing support team at Trident. We do have regular special offers and rewards for our retailers.
What products does Trident offer in Home Textiles?
We are the World's leading Home Textile solution providers. Our strong presence in Bed & Bath Categories make us the Globally Recognized Player. We have a diverse range of products available in Home Textiles such as Towels, Bedsheets, Comforters, Duvet, Bathrobes, Mats, Pillows and many more.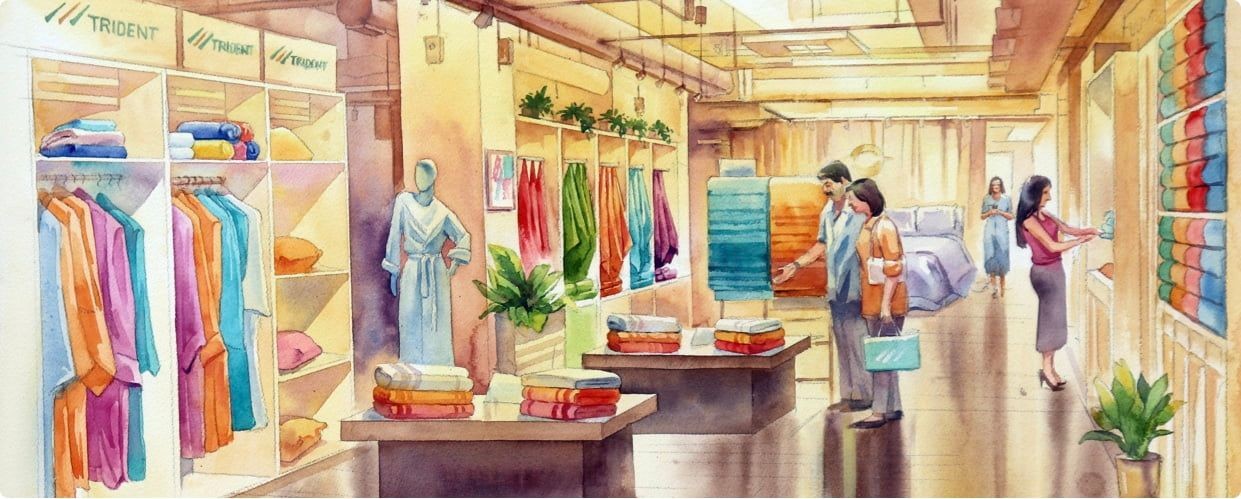 brand store
Want to open a Trident store?
Become a distributor or retailer with us. Delight your customers with top-notch Trident products.