Trident Yarn started off in the year 1993, in Punjab, with a modest beginning of 17,280 spindles.
Today, Trident has emerged as one of the eminent manufacturers and suppliers on high performance knitting and weaving yarn.
With its state-of-the-art technology and then manufacturing units, the company constantly innovates to enhance its product portfolio.
Existing production capacity
& Installed Spindles
390

MT/DAY

TOTAL PRODUCTION
Yarns that make your every day special. These are perfect for weaving & knitting applications.
Application

Count Range

Product Description

Available blends

Contamination Controlled, With Imported Cotton like Supima, Giza, Other than conventional cotton- Fair Trade , Organic , BCI ,Fairtrade Organic

Application

Count Range

Product Description

Available blends

Contamination Controlled, With Imported Cotton like Supima, Giza, Other than conventional cotton- Fair Trade , Organic , BCI ,Fairtrade Organic

Application

Count Range

Product Description

100% Cotton Open End yarns exhibits the properties of high extensibility and elasticity, good abrasion resistance and good insulation properties.

Available blends

Indian Cotton, With imported Cotton like Supima ,Giza Etc.

Application

Count Range

Product Description

A yarn with low hairiness , high evenness , Clean appearance and high resistance to pilling and abrasion

Available blends

Cellulosic blends like 100% Viscose , 100% EcoVero Viscose, 100% Livaeco Viscose, 100% Modal , 100% Tencel, 100% Excel and their blends with Cotton. CVC

Application

Count Range

COMBED: Ne 20/1 -140/1 ELI TWIST (SIRO COMPACT): Ne 2/30- Ne 2/120

Product Description

100 %Carded/Combed Cotton

Available blends

Contamination Controlled With Imported Cotton like Supima, Giza Other than conventional cotton- Fair Trade, Organic, BCI, Fairtrade Organic

Application

Count Range

Combed: Ne 20/1-30/1 Compact: Ne 30/1 -60/1

Product Description

A yarn with good yarn evenness U% is 20% lower than conventional yarn, low imperfections 40-50% lower than conventional yarn , soft hand feel , improved fabric appearance & enhanced durability of garments.

Available blends

100% Combed/compact indian cotton ,Organic, BCI, Fairtrade, Fairtrade organic SEND ENQUIRY

Application

Count Range

Carded: Ne 8/1 – 20/1 Combed: Ne 10/1- 60/1 Inner Fiber: Creora Denier: 20,40,70,140 Lycra

Product Description

A yarn consisting of an inner core yarn surrounded by staple fibres. A core spun yarn combines the strength and/ or stretch of the inner core and the characteristics of the surrounding fiber.

Available blends

100% Carded/Combed , Organic , Fairtade, Polyester/ Cotton, Polyester/Viscose, Cellulosic blends, Slub CSY

Application

Count Range

Product Description

Slub Yarn gives a fancy effect to the fabric. These yarns are produced with specific pattern of mass, length & frequency. Slub Types: Short slub, Medium slub, Long slub, Multi counts, Multi twist, Multi slub, Negative Slub

Available blends

100% Carded/Combed, Organic, Fairtade, Polyester/ Cotton, Cellulosic blends like modal , viscose , cotton/modal etc

Application

Count Range

Product Description

yarn with smooth surface, high regularity, low hairiness, low pilling tendency, high tenacity & elongation

Available blends

100% Carded/Combed, Organic, Fairtade, Polyester/ Cotton, Fairtrade Organic Imported cotton like Supima, Giza ; Cellulosic blends like Modal ,Tencel, etc

Application

Count Range

Product Description

Available in Carded, Combed with standard and recycled material

Available blends

With Indian Cotton, With imported cottons like Supima, Giza etc. With other than conventional cottons like Organic, Fair, Trade, etc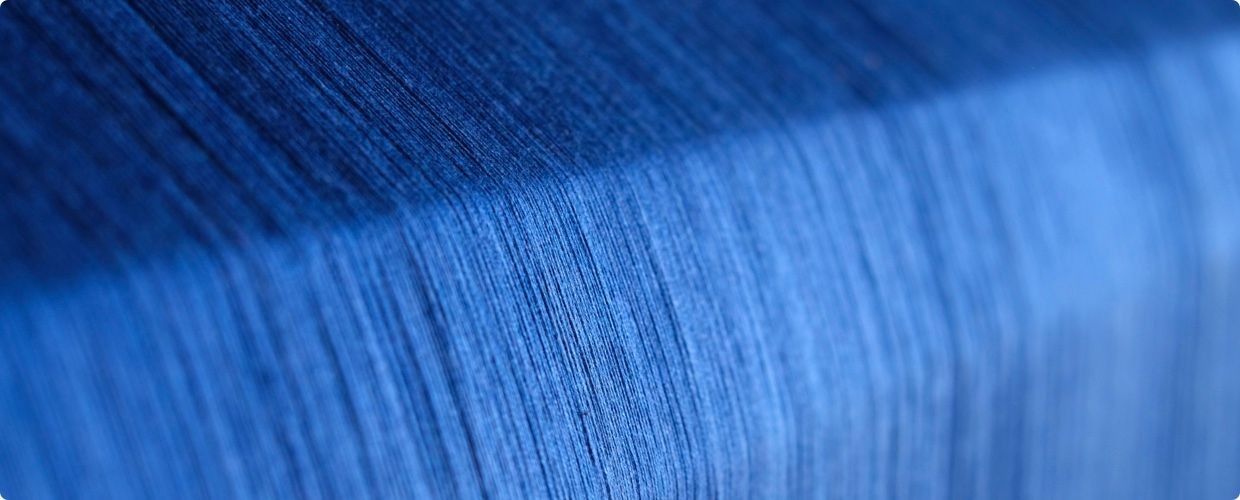 Certifications
& Accreditations
Supima World's Finest Cotton
Organic 100 Content Standard