It takes passion to transform
the world's largest into the world's finest
We have something new
in these categories
minimalist

Minimalist Abstract

Autumn Winter'21 Season's collection
notebook

Lorem ipsum dolor sit amet, consectetur adipiscing elit, sed do eiusmod tempor incididunt ut labore et dolore magna aliqua

factory

rugs

yarns
Who trusts us
in the industry
Stay updated
with the latest
Voice of our
happy customers

Ayesha
I just loved the product it gives a fabulous look for your room
Size: Full Color:Yellow & Grey
Reviewed in India on 20 March 2019Verified Purchase

Amit Singh
It is very soft and the towel fabric quality is super. I would recommend buying this product. It is durable
Size: Full Color:Ivory
Reviewed in India on 5 January 2021Verified Purchase

Nipun
Bedsheet quality is very good. We liked the quality and price of this product
Reviewed in India on 30 March 2021Verified Purchase
There's a lot to see and
get inspired
Answers to questions about working
at the Trident Group
What to look for when buying towels?
While the core function of a towel is to keep you dry and clean, it also enhances the aesthetics for your bathroom and gives you the feeling of softness and comfort every time it is used. The mission? To buy soft, absorbent towels. Here's some advice:
Select a soft towel. Towels that are soft will not chafe or irritate your skin.
Pick a durable towel. Invest in towels that will not easily shred in the washer or due to use.
Buy an eco-friendly towel. It's important to choose towels that are sustainably sourced and easy on the environment.
Prioritize the attributes as per your requirement for best selection of towel as per the use of the towels.
How long should you use a towel?
It is recommended that you wash your bedding at least once every two weeks. Though, some people should consider washing their sheets as much as once a week, especially those who:
Are prone to night sweats
Sleep with their pets
Eat in bed
Use their bed as a place to relax during the day
Have an old mattress or box spring Bedding should be washed often because bacteria, mites, and allergens are attracted to the hair, skin, and sweat that you shed each night. It doesn't take long for your bedding to become a host to these intruders if left unwashed. Trident Wellness range caters very well to this range.
How do you take care of towels?
When shopping for new bed sheets, pillowcases and sets, there are certain things to look for. Here are some of the features of sheet sets to consider:
Material One of the most popular materials for sheets is cotton because it's soft, breathable and easy to care for. You'll also find sheets made from Belgian flax linen and those crafted from organic fabrics. There are Tencel™ sheets that resist wrinkling, as well as flannel sheets for toasty warmth on cold nights.
Thread Count The thread count of a sheet set refers to how many threads there are per square inch. As a general rule, the higher the thread count, the higher the quality. Pottery Bar has sheets in varying thread counts, such as 400 and 700, so you can find your preferred softness level.
color Solid color sheets work well with most any type of comforter or duvet. The selection has crisp white sheets for the look of a luxury hotel, along with sheets in an array of other colors such as beige, pink, blue and gray.
print For a colorful look that coordinates well with a solid bedspread, check out the sheets with prints. There are Lilly Pulitzer sheet sets with vibrant patterns, as well as sets with fun animal prints and those with a holiday theme.
What to look for when buying towels?
Folding fitted bedsheets is an art in itself. Here are some instructions you should follow while folding your elastic bedsheets:
Grasp the fitted sheet with one hand in each of the top corners.
Double up the bedsheet in half, neatly tucking in the corners.
Fold the sheet in half once more, ensuring all four fitted corners meet.
Flip the right set of corners over the left set, forming a perfect rectangle.
Double the sheet in half lengthwise, then fold it into thirds.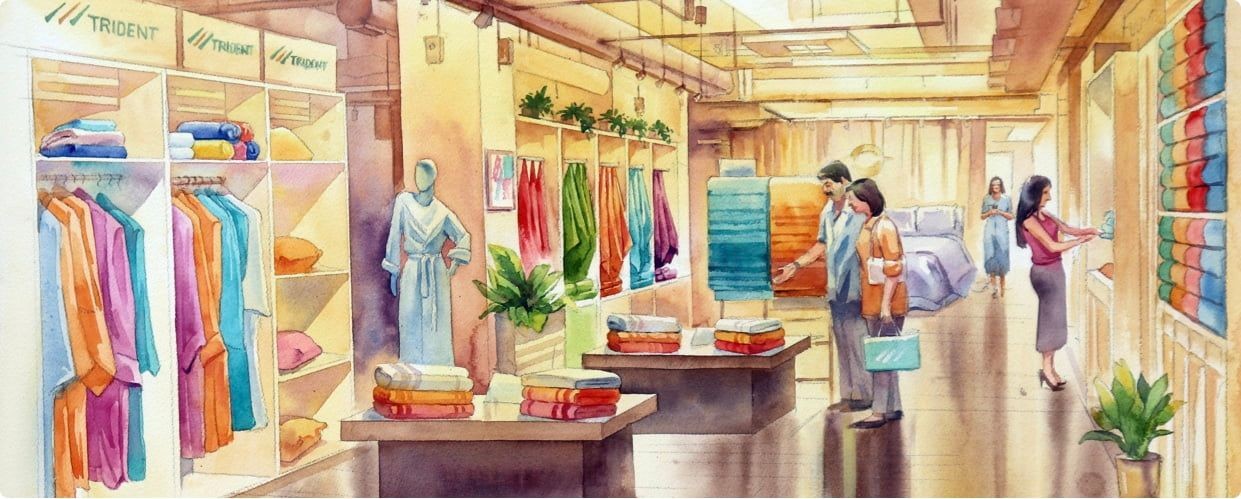 brand store
Want to open a Trident store?
Become a distributor or retailer with us. Delight your customers with top-notch Trident products.