It takes passion to transform
the world's largest into the world's finest
We have something new
in these categories
Trousseau

Trousseau Collection

Autumn Winter'21 Season's collection
Who trusts us
in the industry
Stay updated
with the latest
Voice of our
happy customers

Ayesha
I just loved the product it gives a fabulous look for your room
Size: Full Color:Yellow & Grey
Reviewed in India on 20 March 2019Verified Purchase

Amit Singh
It is very soft and the towel fabric quality is super. I would recommend buying this product. It is durable
Size: Full Color:Ivory
Reviewed in India on 5 January 2021Verified Purchase

Nipun
Bedsheet quality is very good. We liked the quality and price of this product
Reviewed in India on 30 March 2021Verified Purchase
There's a lot to see and
get inspired
Answers to questions about working
at the Trident Group
What to look for when buying towels?
Whenever looking to buy a good quality towel, ensure checking GSM (Gram per square metre), size and material of the towel.
How to take care of your bed linen?
First things first, ensure sticking to the wash care label. Additional steps that you can religiously follow to maintain your bed linen is by washing them frequently using a mild detergent, avoiding blow drying and direct sunlight.
How should you wash your bedding?
Washing bedding once a week would suffice but always remember to wash them separately. Washing them when the machine is full will lead to shrinkage.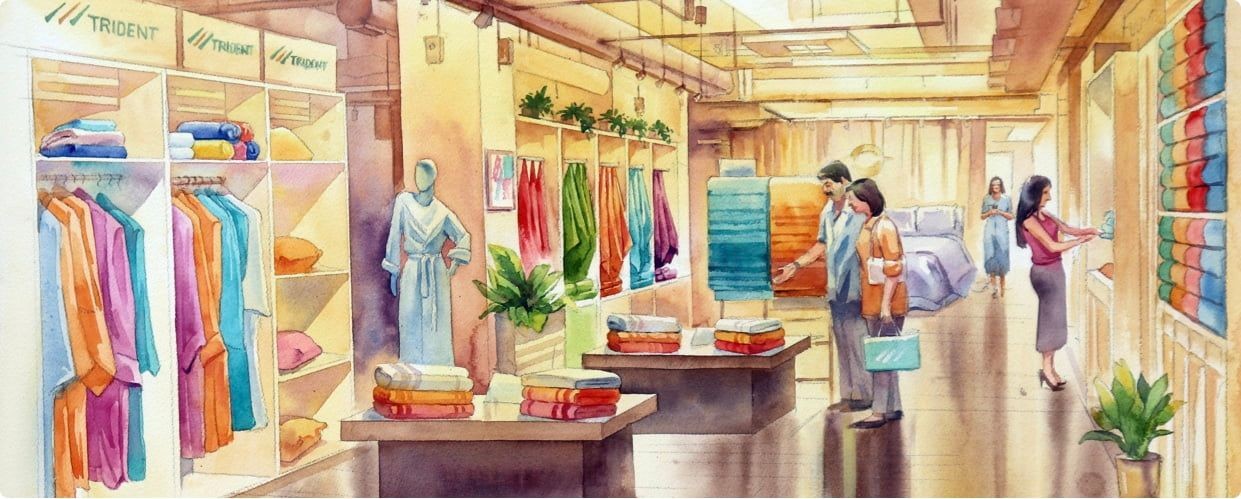 brand store
Want to open a Trident store?
Become a distributor or retailer with us. Delight your customers with top-notch Trident products.